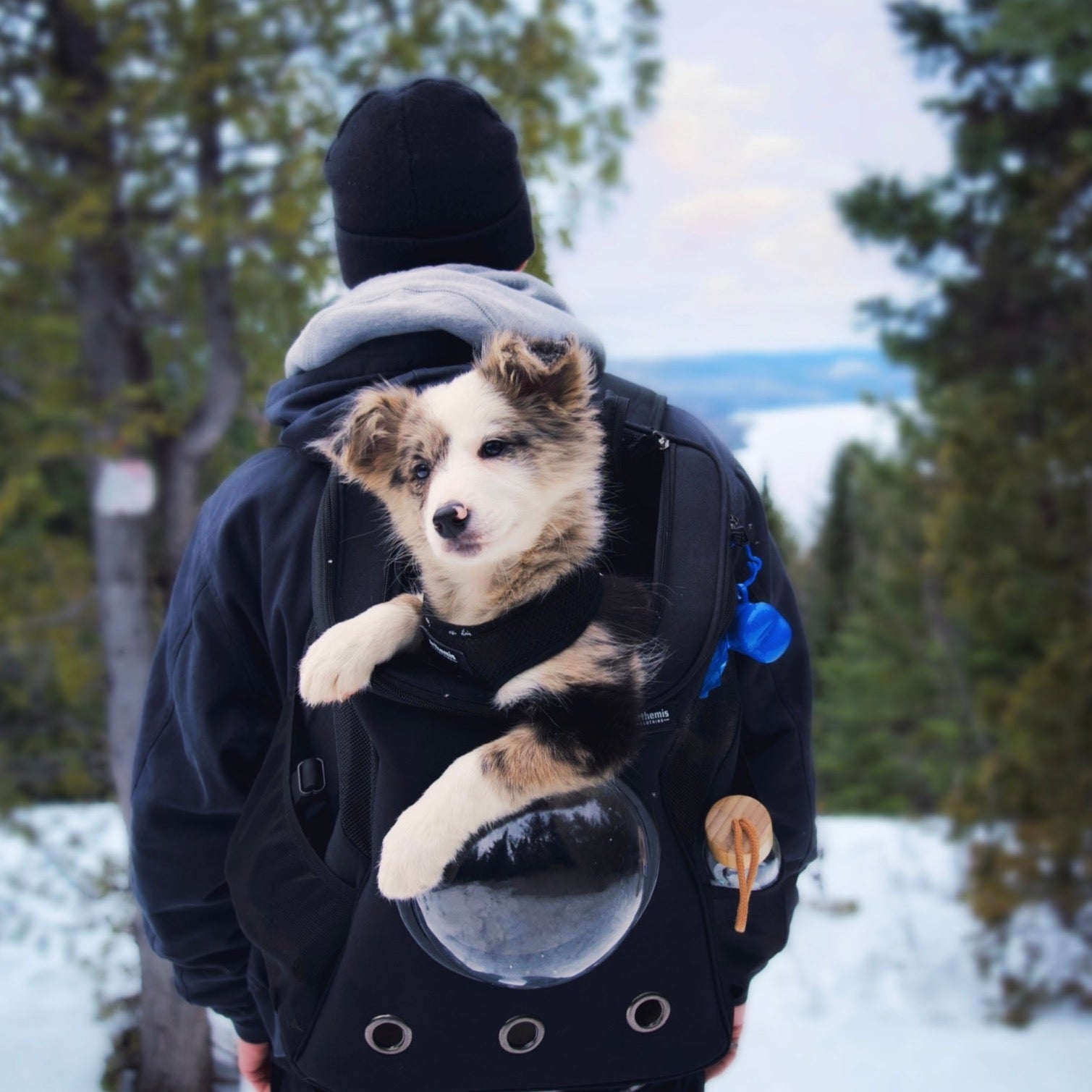 Large Adventure Backpack
$249.99
Out of stock
Are you sick of leaving your pet home alone as much as you do? Our backpack allows you to always bring your fur baby with you. Shopping, walk, hiking, camping Starbucks? No problem! Arthemisclothing backpack is also perfect for public transport & veterinarian appointments.
✔️ Give your pet the enrichment and stimulation they need in a safe way so they can live a long and happy life.
✔️ Reduce anxiety & stress VS an old pet cage
✔️Well-ventilated, breathable & safe with a clip to attach your pet's harness inside
It comes with a bubble window & screen attachment that you can swap out at your convenience! 
We design our products with your pet's comfort and safety as top priority, along with your convenience and comfort as the parent, of course! 
Why is this backpack better than all the others?

An exceptional capacity of 25lbs | 11.5 kg: no matter how much they weigh, your pet will be comfortable. This is the best capacity on the market.
Several ventilation spaces to allow your pet to enjoy the trip in complete safety
100% safe and breathable
Two storage pockets on the sides
Adjustable and comfortable straps with chest strap
Clip inside to attach the harness 
 Large capacity: suitable for several kittens, 2 cats or a large cat (maine coon breed)

Possibility to roll and attach the screen above the bag. All of our styles have a clip and bungee for you to attach a leash so your cat can "hang out" of the backpack & see the world. 
What are the uses of this backpack? 
Hiking & outdoor activities such as hiking, camping and more

Veterinarian appointment

Airplane & car

 
Public transport
Bag weight: 2 lbs | .9 kg 
Bag dimensions:  | 38 cm x 14.6 in 29 cm x 11.4 in 45 cm x 17.7 in
Ditch your old pet cage
Shopping, outdoor activities, Starbucks? No problem! Also perfect for public transport & veterinarian appointments.
Well-ventilated with a clip to attach your pet's harness inside for extra safety.
Provide enrichment and stimulation in a safe way to reduce anxiety & stress.
Harness Clip
Attach the harness for extra safety
Roll the Top
So your pet can see the outdoor
2 Exterior Pockets
Perfect to bring treats
Grid or bubble
Swap them at your convenience
Chest Strap
Adjust them for comfort
Removable Mat
Washable if needed
Special Promotion
Free harness with every backpack purchased for a limited time
Start Your Adventures
Outdoor Activities

Perfect for hiking, camping & outdoor adventures.

Transport

Amazing for public transport, plane, travel, roadtripvand more.

Veterinarian appointment

Bring the backpack to your appointment and enjoy the compliments.
FAQs
Is the backpack airline approved?
Yes! Our backpack is airline and flight compliant. You just need to check the dimensions of our bag against the policies of the airlines.
What are the uses of this backpack?
Even if our backpack is popular for adventures, you can use it for veterinarian appointment, public transport & more!
How to get your pet used to the backpack?
It's very important to let them explore the backpack. You can also put toys or treats in it. Leaving it open in the house is also a great idea so it will become a place to sleep, play or hide.
Do you ship worldwide?
Yes! We want to include pets from all around the world. This backpack can be shipped worldwide.